The Committee of 100 (C100) is a non-profit leadership organization of prominent and extraordinary Chinese Americans in business, government, academia, and the arts. Founded by world-renowned architect I.M.Pei and internationally acclaimed cellist Yo-Yo Ma, among others, it is an institution of U.S. citizens of Chinese heritage. For 30 years, C100 has served as a preeminent organization committed to the dual mission of promoting the full participation of Chinese Americans in all aspects of American life and constructive relations between the United States and Greater China.
2019 GREATER CHINA CONFERENCE AND GALA
The Committee of 100 (C100) Greater China Conference and Gala 2019 was held at the Ritz-Carlton Shanghai, Pudong from December 7-8, 2019 and was co-chaired by C100 Members
Richard Y. Lee
and
Howard Li
, who led the planning committee and staff in the organization of the event.
The conference was hosted in partnership with the American Chamber of Commerce in Shanghai and centered around the theme, "The U.S. and China: Responding to a Changing Relationship." We were joined by several prominent figures and officials including Former Minister of Foreign Affairs of China Zhaoxing Li, Former Chinese Ambassador to the U.S. Wenzhong Zhou, Consul General Sean B. Stein from the U.S. Consulate General in Shanghai, Chairman of the American Chamber of Commerce in Shanghai Eric Zheng, Chief of Staff of the U.S. Embassy in Beijing Steve W. Churchill, Vice Chair of the Chinese People's Association for Friendship with Foreign Countries Yuan Xie, and Vice Chair of the Shanghai Overseas Friendship Association and Chairman of the Shanghai Overseas Chinese Affairs Office Jue Wang. We were also joined by twenty distinguished Committee of 100 members, as well as higher education and business leaders across Greater China. The Greater China Conference and Gala 2019 was the largest C100 conference held in Greater China to date with over 500 attendees participating in our Full-Day Conference, Awards Gala Dinner, and C100 Scholars Program (CSP) 2019 Awards Ceremony. We were honored to be joined by so many longtime and new supporters as well as distinguished guests for our annual celebration in China. Thank you to our members, speakers, and sponsors for making the Greater China Conference and Gala 2019 such a resounding success.
MEDIA COVERAGE

SPONSORS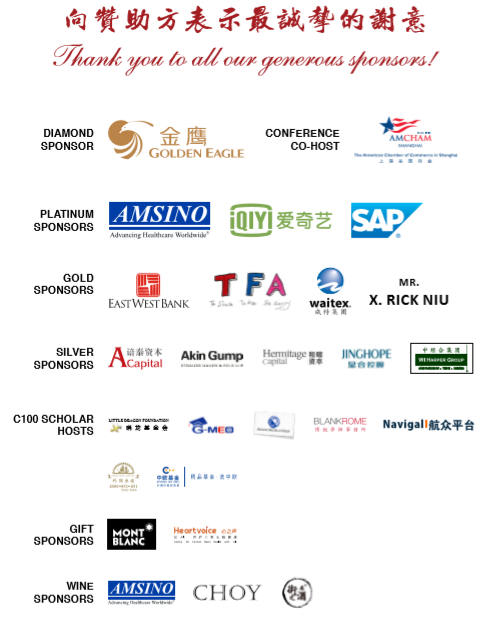 VOLUNTEERS
Jennifer Cai, Kate Chen, Prada Chen, Cindy Cheng, Pengcheng Deng, Claire Guan, Kaitlyn He, Wanying He, Stephanie Huang, Ziyuan Hu, Regina Jiang, Katherine Jin, Xinran Li, Jin Qin, Jelly Shen, Sabrina Song, Lan Tang, Lingli Tang, Joncey Tao, Anthony Wang, Olivia Wang, Shereen Wang, Yuanyuan Wang, Yuejuan Wang, Estela Xiang, Jassi Xie, Emma Yang, Yujing Yang, Miao Yu, Dong Xu, Cecelia Zhang, Doris Zhang, Iris Zhang, Cheng Zhao, Crystal Zhao
Committee of 100

Extraordinary Chinese Americans

Ensuring Full Inclusion in America

Advancing U.S.-China Relations

Connect