from bloomberg next china
-more here
China snapped into rapid-reaction mode this week as authorities sought to contain the Wuhan virus that's already killed 25 and infected hundreds. As they did, it was hard to miss the
legacy of SARS
hanging over everything.
The spread of Severe Acute Respiratory Syndrome in 2003 was traumatic for many in China. The country accounted for the vast majority of infections and most of the almost 800 deaths globally. Moreover, the government's clumsy initial response and an attempt by some officials to hide infections left
Beijing's reputation
deeply scarred.
So far, all signs are that China is handling this outbreak far more effectively. The government's response has been praised by both the
World Health Organization
and various scientists. It's also been made clear to Chinese officials that they must not hide infections, lest they be "nailed on the pillar of shame for eternity."
But old suspicions persist.
Chinese social media
was aflutter with discussions of the Wuhan virus this week, with many complaining about a lack of information and others questioning why officials didn't announce earlier that it can be transmitted person-to-person.
And though Beijing has taken
a slew of measures
to stem the spread of infections, worries continue to run high.
Demand for face masks
is so great, for example, that Alibaba took the unusual step of telling merchants on its platform they wouldn't be allowed to raise prices.
Whether this virus has as large an impact on China and the world as SARS did remains
an open question
. What's clearer though is that even after almost two decades, the memories of SARS are still casting a long shadow over what Beijing does today.
Firm on Hong Kong
Hong Kong Chief Executive Carrie Lam gave her first media interviews this week since protests in the city escalated seven months ago.
She was firm
on the need for demonstrators to abstain from violence and defended her refusal to set up an independent commission to investigate police actions. There were no hints of any concessions. That unyielding stance is something Lam shares with Luo Huining, China's most-senior official in Hong Kong, who this week stressed the need for
national security legislation
in the city to protest it from "external forces." With no political solution seemingly on the horizon, the dim outlook for Hong Kong's economy, from
jobs
to
retail
, is also unlikely to change.
Tech Titans Clash
WeChat, the super app owned by Tencent, is pretty close to ubiquity in China. Hundreds of millions of people use it every day to communicate, shop and pay for goods and services. But what seemed
an iron grip
on those users just a few years ago is now looking a little less strong. That's mainly because of Bytedance and the popularity of its Douyin app, better known outside China
as TikTok
. These two Chinese tech titans look increasingly set for a head-on clash. This past week, for example, it was revealed that Bytedance is planning a push
into mobile gaming
, a market long dominated by Tencent. In response, Tencent is developing a short-video function that more directly pits
WeChat against TikTok
. Ladies and gentlemen, may the best app win.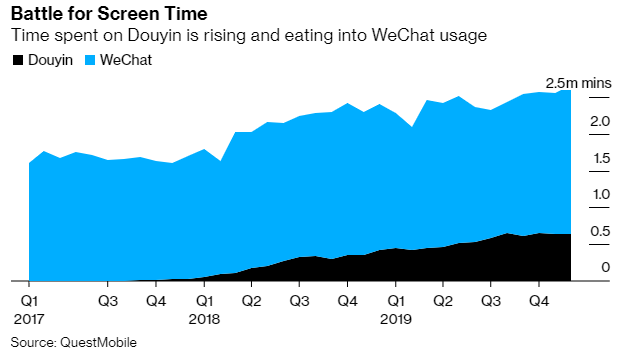 Huawei Trial
The front line of the tech war shifted to a
Vancouver courtroom this week
, as hearings kicked off to determine if Huawei's chief finance officer and daughter of founder Ren Zhengfei should be extradited to the U.S. to face
charges of bank fraud
. Prosecutors allege that Meng Wanzhou deceived HSBC into helping Huawei do business in Iran. Meng's defense
calls that charge a facade
. They argue she's really being prosecuted for violating American sanctions, which isn't a crime in Canada, and so she should therefore be set free. It will be some time yet before a ruling comes. In the meantime, the amount of pressure Washington exerts on Huawei is far more likely to intensify than to subside. But Ren this week
shrugged off that threat
, telling an audience at Davos that any escalation would have a limited impact on Huawei's business.
Single-Use Plastic
One of the more-adverse outcomes of
economic growth
is that the richer people get, the more trash and pollution they tend to produce. At a scale of 1.4 billion people, it's an especially acute problem for China. Take for example Alibaba's e-commerce shopping extravaganza known as
Singles Day
. The event is lauded as a symbol of China's growing middle class but also criticized for generating 1 billion packages in a day. Beijing is taking action. The latest is a plan to
curtail single-use plastic
, including a ban on non-degradable plastic bags and a requirement for food delivery services to use degradable packaging. How that effort fares will dictate much about the environmental future facing China and the world.
What We're Reading:
A few other things that caught our attention:
And finally: There won't be a Next China newsletter next week, when we'll all be off celebrating the Lunar New Year. Slightly plumper versions of us will be back to publish the next edition on February 7.